2022 Kilroy Award Winner
Merlin and Delores Felt were chosen as the 2022 Kilroy Award winners.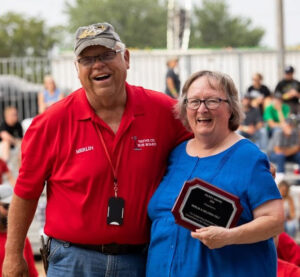 Merlin grew up living in Wayne County his entire life. Rarely did he miss many of the fair activities throughout the years. Leland Herman, who was Merlin's neighbor and friend and a lifelong bachelor was very instrumental in introducing Merlin and Delores, who lived in South Dakota. While rais- ing their family, with their children Renee and James as active 4-H members, the county fair became a bigger part of their fami- lies lives. Most 4-H projects were in the beef area.
Delores had been a lifetime 4-H member from Aberdeen, South Dakota, who showed mostly Shorthorn cattle while growing up. A bigger love in 4-H started. Leland had asked Delores to be county fair secretary under then President Mick Topp. Since Merlin was elected to the county fair board in 2009, Merlin's main jobs have been the beef building and surround- ing areas to display farm equipment. He helps maintain the grounds by seeding and haying. Merlin is currently co-vice presi- dent. He is also in charge of the farm equipment displays during the fair and making sure bleachers are in place for all the shows.
Delores has worked in the Ag Hall Open Class as the assistant superintendent helping enter projects, whether it be cookies, arts and crafts, or vegetables. She helps with recording the prizes and placing ribbons for the exhibits She has helped get food donations for the pre-fair and post-fair cleanup nights for the many volunteers as a small token of thank-you for those willing to help get the grounds and buildings ready for the fair and clean up and put away after the fair.
Merlin and Delores deserve to receive this service award for the many hours throughout the years that they have ded- icated to helping make the Wayne County Fair what it has become today.